The Only Natural Way To
Stop Losing Bone For Good
Clinical Studies Show Women In Their mid-80s are Increasing Their Bone Density
As Seen On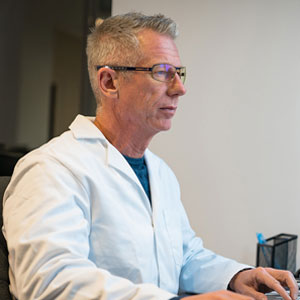 If you're concerned about bone loss, I've got some comforting news for you today.
At a time when we typically lose 1% of our bone density every year, women and men are building 1%- and even more- new bone. (That's a 2% swing every year.)
A groundbreaking study in the International Journal of Medical Sciences revealed a first in human history: a natural plant calcium supplement increased bone density by at least 1.3% in 12 months. ?
And now two more studies following women using this same calcium breakthrough, are showing similar results. One study, published in the Nutrition Journal, saw postmenopausal women increase their bone density in just 6 months. ?
Another in the Journal of the American College of Nutrition, showed the women who took this plant calcium consistently increased their bone density by 1% every year, for 7 years. ?
Hi, I'm Dean Neuls and I've invested nearly 20 years into bone health research. In that time, I've helped design clinical trials for folks with bone loss that support every claim on this page.
And now, you can try the same plant calcium breakthrough they did. It's called AlgaeCal.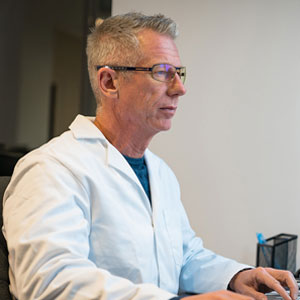 AlgaeCal offers the world's only calcium supplements shown to increase bone density. Your results are measurable by DEXA scan in 180 days. Guaranteed!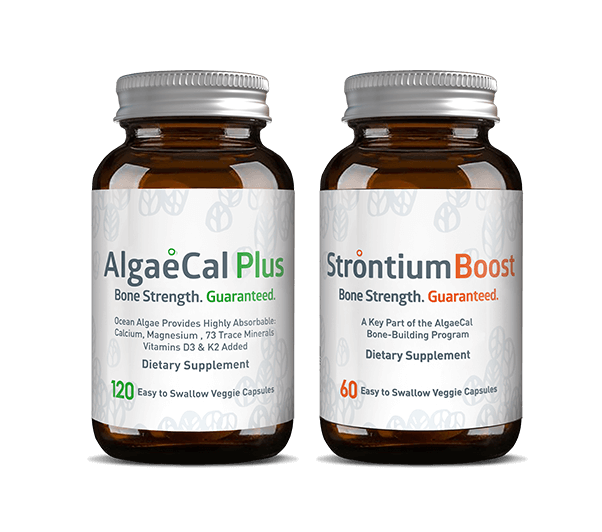 Here's Why I'm So Confident
Over 50,000 women and men since 2002 have increased their bone density with "Mother Nature's bone rebuilder". Only one of those people returned the product after seeing their DEXA results.
3 breakthrough clinical studies now show you can stop- and even reverse- bone loss. For the first time in human history, researchers have found the precise nutrient mix that naturally builds new bone throughout your body.
Government health agencies recognize this natural bone builder. The US FDA and Health Canada both approve the supplement as safe, and Health Canada even acknowledges AlgaeCal as the only calcium on earth that "helps increase/improve bone mineral density".
Recommended by alternative and conventional doctors alike. Use the product that America's top doctors choose.
But Who Am I To Tell You What To Do For Your Bones?
Leading doctors and researchers support my bone-building discoveries.
Here are just a few of the experts who stand by my research

Dr. Lawrence May
Harvard-educated American physician, author and public speaker. Dr. May was voted as one of the Best Doctors in Los Angeles. Plus, one of the Best Doctors in America by Los Angeles Magazine.

Dr. Joe Pizzorno
A near 50-year veteran of naturopathic medicine. Dr. Pizzorno is the founder of Bastyr University, the first ever accredited university of natural medicine in North America. He's also Editor-in-chief of Integrative Medicine: A Clinician's Journal, the best read medical journal in the field.

Dr. Gilbert Kaats
A pioneer in bone health research, Dr. Kaats is Chairman and CEO of Integrative Health Technologies, Inc. Dr. Kaats's studies involving AlgaeCal won him a distinguished research award by the prestigious medical journal Journal of the American College of Nutrition.
See What Doctors Are Saying
(4 min)
Still Skeptical?
I can't blame you. It's not every day you're told a life-threatening ailment like bone loss can be reversed.
So… don't believe me. Instead, watch what other folks just like you discovered. Click the green play button and you'll see personal home videos (and DEXA scans) from people who were just as skeptical as you!
Success Stories
See What Real People Say About AlgaeCal
(3 Minutes)
So What's the Problem with Regular Calcium Supplements?
We lose about 1% of our bone density each year after age 40. (And up to triple that loss in the first few years of menopause.) Left unchecked long enough, everyone gets osteoporosis.
But regular calcium supplements like calcium carbonate and calcium citrate can only slow annual bone loss. Taking these supplements over a lifetime together with a healthy lifestyle do have some benefits for osteoporosis. But there isn't a single study showing they can build new bone
So instead of losing 1% of your bone each year, you might lose half of that. But you're still LOSING bone. But why is this? Simple: Because 90% of all calcium supplements sold today are made from— get this— rock. Marble and limestone to be precise.
Which Calcium Source Do You Prefer?

Of course, our bodies aren't designed to absorb rocks. And even if they were, they wouldn't get all 13 essential minerals your bones need to stay strong.
But it gets worse…
You may have heard that popular calcium supplements increase your risk of heart attack and stroke.1 Now it's easy to see why! You're clogging up your arteries with limestone-based plaque. Indigestible rock calcium builds up until your arterial walls can hardly push blood through anymore.
Since the calcium can't enter your bone, it has no choice but to collect in soft tissues like your muscles, arteries, and kidneys.
So if traditional calcium supplements can't improve your bone health… will anything work?
13 Essential Bone-Building Minerals
Introducing

the superfood source of calcium and minerals that's
clinically supported to build healthy, new bone!
In April 2003, many years ago, I got a phone call that changed my life forever…
It was from a South American man who claimed to have found a "better" calcium source. He said it was an ocean algae that washed up on shore near his home. In fact, he sent me pictures of pinkish algae balls about the size of a lemon. I was intrigued, but skeptical.
Of course, I'd soon discover that those pinkish balls would be nature's answer to bone loss…
So I flew down to South America and heard something amazing. For generations now, local fisherman along pristine shorelines collected this rare, kiwi-sized algae. And the locals prized this algae for its amazing effects on their livestock.
In fact, I even spoke with a veterinarian who told me local cattle farmers were stunned after seeing the algae's effects on their cows. Here's what happened:
The veterinarian actually sold this algae in a milled powder form. He'd give the cattle farmers some algae, and tell them to feed it to only 2 cows in the herd. The vet would then come back in a few weeks. After he returned, the vet could immediately pinpoint the exact two cows that ate the algae out of several dozen! How?
Simple: He could see those two cows had the shiniest coats, and showed the most vigor and muscle tone of the whole herd! What's more, their milk had higher protein levels too. Amazing, right?
The scientific term for this algae is Lithothamnion Superpositum. And I wondered if Lithothamnion Superpositum would also have beneficial effects on humans. So I set out to find an answer. But first, you may be wondering…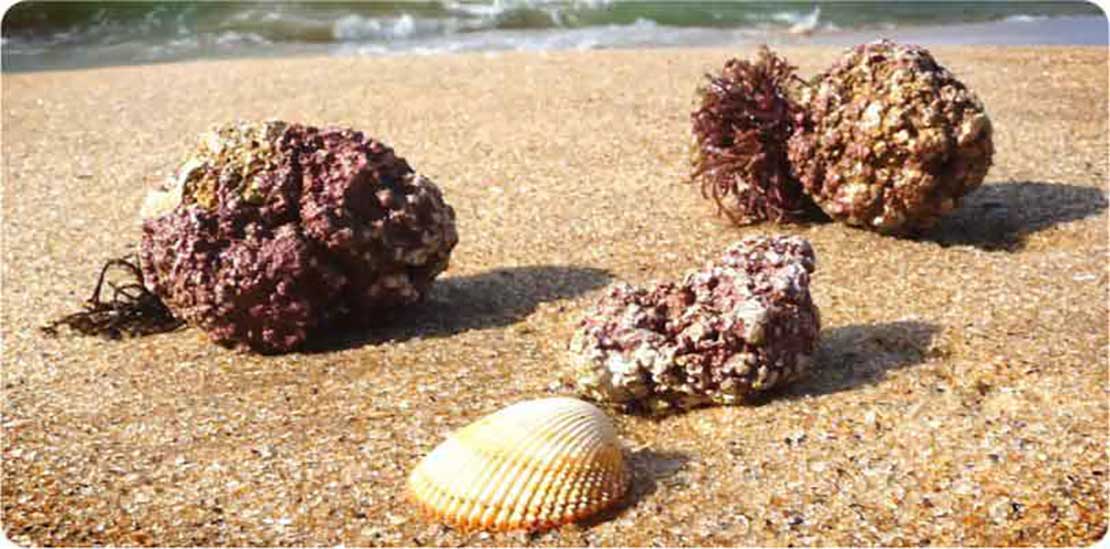 What makes this algae so special?
It's the world's only organic matter known to increase bone density in adults of any age
Plant calcium only goes where it's needed. No deposits in arteries, kidneys or other soft tissues that rock calciums go
Side effect-free: No upset stomach or constipation! The algae "pre-digests" all the minerals making it a breeze for you to digest
Makes nails and hair grow faster and stay stronger
But here's the best part…
Do You See Now Why This Algae is a Superfood?
Remember earlier when I said your bones need 13 different minerals to remain dense and strong? Well, this algae has all 13 in similar balance to young, healthy bone.
These 13 minerals are ground up and milled into an organic powder. And it's this organic powder that's stopping and reversing bone loss… and giving people their active, productive lives back. It's called AlgaeCal Plus: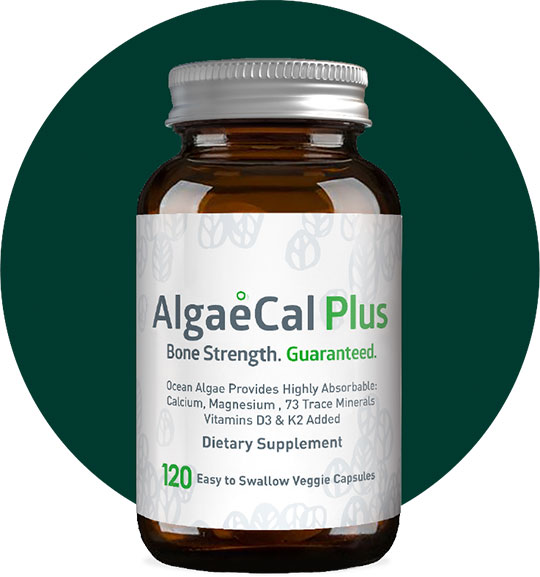 The "Plus" means you get full clinical doses of added vitamins and minerals to ensure your body gets the most out of the AlgaeCal powder:
Supplement Facts
Serving Size: 4 Capsules Per Day
Servings Per Container: 30
Vitamin C 50mg (as calcium ascorbate)
84%
Vitamin D3 1600 IU (as cholecalciferol)
400%
Vitamin K2 100 mcg (as menaquinone-7)
126%
Calcium 720 mg (from algas calcareas)
72%
Magnesium 350 mg (from algas calcareas and magnesium oxide)
88%
Boron 3.0 mg* (as glycinate)
Other Ingredients: Vegetable cellulose (vegetarian capsule), silicon dioxide, magnesium stearate (vegetable grade).
Click a Nutrient to Learn More
Then I Discovered A Natural Way To Make
AlgaeCal Plus Build New Bone In HALF The Time
I looked back at hundreds of different studies to see if there were any hints to what might improve AlgaeCal's effects. Then after 11 months of searching, I finally found something… and it sounded familiar. It was the common earth element strontium. Turns out, strontium is in our soil, in our diet, and therefore in our bone.
In fact, strontium is absorbed in the body just like calcium. So I did some digging. And I learned that scientists studied strontium decades ago and found it had positive effects on bone health. So that's when I knew I had to confirm it for myself.
I had heard about the common earth element strontium before. After all, strontium is in our soil, in our diet, and therefore in our bone.
I Had to Put Strontium To The Test!
You may remember from above that AlgaeCal Plus on its own increased bone density 1.3% in just 12 months. So I combined the AlgaeCal Plus with natural strontium citrate to see if together they'd build more bone than AlgaeCal Plus alone. Then, scientists had 58 women over age 40 try this new combination. And the results… stunned me:
The Strontium Group Saw The REAL Breakthroughs…
Triple Bone Building!
Breakthrough #1
The Strontium Group built 3 times more bone than the Vitamin D Group! Taking Strontium together with AlgaeCal Plus increased their bone density an average of 3.72% (versus 1.15% from the Vitamin D Group)!
The Strontium Group had 3 times more bone growth than the Vitamin D Group!
READ MORE…
Half the Time!
Breakthrough #2
The Strontium Group built 3 times more bone in half the time!
At the six month point in the study, the AlgaeCal and Vitamin D Group had not increased bone density yet. But the AlgaeCal Plus and Strontium folks had already amassed over 1% of brand new healthy bone.
Continuous Results!
Breakthrough #3
AlgaeCal Plus and Strontium Boost built new bone consistently over the year. Which got researchers thinking…
What happens to bone density after the first year? Could people continue to increase bone density year over year? Well, I'm happy to say, we recently got the exciting answer:
A landmark study in the Journal of the American College of Nutrition showed AlgaeCal Plus with Strontium increased bone density, year after year… for 7 years6
172 women in their mid-60s added 1.04% new bone mineral density each year… for an average total of 7.3% over the 7 year period! Just think, they should have lost about 7.3% over those 7 years— making this the equivalent of a 14% bone density increase versus regular calcium supplements
No adverse effects were reported, and 45 blood panels drawn pre- and post-study confirmed safety
Triple Your Bone Building with Strontium Boost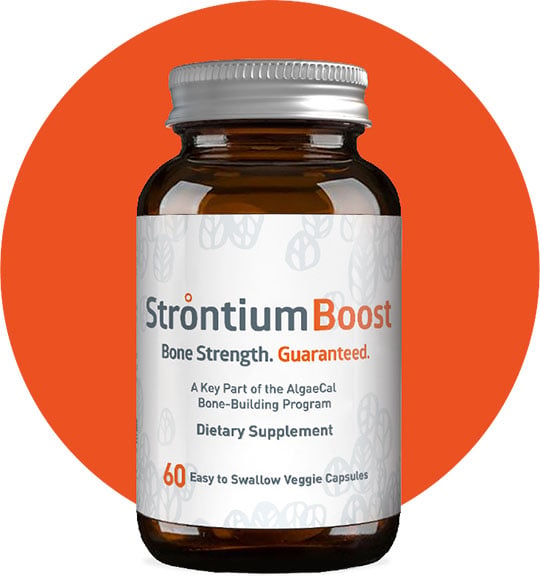 Supplement Facts
Serving Size: 2 Capsules Per Day
Servings Per Container: 30
Strontium (from Strontium Citrate)
680 mg*
*Daily Value (DV) not established
Now, enjoy the same strontium citrate hundreds of women and men used in the breakthrough studies above
Triple the amount of brand new bone compared with taking AlgaeCal Plus alone
See a positive increase on your next DEXA scan… as early as 180 days from now. AlgaeCal Plus and Strontium Boost taken together helped over 700 women in three separate studies increase their bone density. Some saw the increase in just 6 months.

That's why you can now start living life on your terms. Not what your body, or your current calcium supplement dictates. (Just take it from the dozens of folks who recorded a video of their experience above!)
You'll find the freedom and independence of not having to think twice about what activities you do, is invaluable.
No More Bone Loss. Just Brand New Bone.
Bone Loss Is Preventable — But
More Importantly — REVERSIBLE,
Even Into Your 80's!
AlgaeCal Plus and Strontium Boost together increase bone mineral density in 6 short months, guaranteed. No other bone formula on the market today can make that claim.
After all, no other bone formula has the clinical studies backing up its claims
Bone Study 1
Algaecal Plus and Strontium Boost Increase Adult Bone Density after Six Months
Nutrition Journal published a study showing that AlgaeCal Plus and Strontium Boost formulations actually INCREASED bone density … even in 80 year old study participants.
This human study involving more than 200 women and men found that AlgaeCal formulations increased bone density by more than 2% on average. To gain bone density at all is an unusual finding as humans normally lose approximately 1% of bone each year after age 40. This open label study measured bone density of participants at the beginning, then again after six months of taking AlgaeCal formulations (including strontium).
The primary outcome measure was bone mineral density and a secondary measure was safety as reported in a panel of 43 blood tests along with quality of life questionnaire. Calcium studies often report an "increase in bone density", but it is never an outright increase — it is an increase compared to the placebo group which is declining — so the participants are actually losing bone. This study is a landmark result with a real increase in BMD.
Compare that to rock calcium which can only slow annual bone loss… not build new bone!
PubMed ID: 21492428
Algaecal Plus and Strontium Boost Increase Adults' Bone Density after Six Months
READ MORE…
Bone Study 2
Examines the Effect of 3 AlgaeCal Formulations on Post-Menopausal Women's Bone Density at One Year
Yet another study, published in the International Journal of Medical Sciences, looked at our product duo's effectiveness for postmenopausal women - who typically lose 1-2% bone density each year. Rock-based calcium supplements slow that down just a little bit. In this study, AlgaeCal increased bone density in one year.
Three groups of post-menopausal women each took different AlgaeCal formulations with all groups increasing bone density at one year. The smallests average increase among the 3 groups was 1.3% — an extraordinary result since traditional calcium supplements do not increase bone density.
This comparative effectiveness study measured bone density via DEXA scan at baseline and then again at 6 months and one year. AlgaeCal's results were compared to published data on traditional calcium supplements BMD scores. Post menopausal women are expected to lose approximately 1% of bone density per year with traditional calcium supplements only slowing that rate of loss slightly.
PubMed ID: 21448303
Annual Change in
Bone Mineral Density
Examines the Effect of 3 AlgaeCal Formulations on Post-Menopausal Women's Bone Density at One Year
READ MORE…
Bone Study 3
Women who took AlgaeCal Plus and Strontium Boost for 7 Years Showed Continually Increasing Bone Density, plus Safety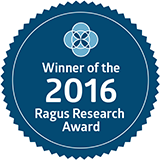 (Award-winning study! This breakthrough bone study won the Charles A. Ragus Award for Best Original Research Paper of 2016! Top researchers at the Journal of the American College of Nutrition voted for our 7-year AlgaeCal Plus and Strontium Boost study."
The Charles A. Ragus Research Award is awarded to: "manuscripts that present innovative research of nutritional importance with useful application for researchers, physicians, and healthcare specialists and professionals.")
Bone studies one and two above showed adults increase bone density in one year or less with AlgaeCal formulations, but the question remained: What happens to bone density after one year?
Answer: This study showed women in their mid 60's gained 7.3% more bone over 7 years — and that it happened in a linear fashion with about 1% added per year. Safety was well established by a panel of 45 blood chemistries drawn at baseline and ending. This is significant given recent studies suggesting traditional calcium supplements may increase cardiovascular risks.
This study was published in the Journal of the American College of Nutrition in February 2016.
PubMed ID: 26885697
Women who took AlgaeCal Plus and Strontium Boost for 7 Years Showed Continually Increasing Bone Density, plus Safety
READ MORE…
Even Government Health Agencies Are Taking Notice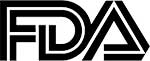 Algaecal Offers What No Traditional Calcium Supplement Can
Compare AlgaeCal Plus to Traditional Calcium Supplements
| | |
| --- | --- |
| | Proven to INCREASE Bone Density |
| | Body-Friendly Plant Calcium |
| | 13 Bone Building Minerals |
| | Full Clinical Dose Vitamin D3 |
| | Full Clinical Dose Magnesium |
| | Full Clinical Dose Boron |
| | Full Clinical Dose Vitamin K2 |
| | Easy-to-Swallow Capsules |
| | Non-Constipating Food Source |
| | 7 Years of Scientific Evidence |
| | Who Else Guarantees You Will Increase Bone Density? |
ALGAECAL PLUS
TRADITIONAL
CALCIUM
SUPPLEMENTS
Body-Friendly Plant Calcium
13 Bone Building Minerals
Full Clinical Dose Vitamin D3
Full Clinical Dose Magnesium
Full Clinical Dose Vitamin K2
Studies Showing Increased Bone Density
Non-Constipating Food Source
7 Years of Scientific Proof
Who Else Guarantees You Will Increase Bone Density?
Our files are thick with reports from dissatisfied calcium supplement customers until they found AlgaeCal.
Did you check out the success stories from our customers yet?
We selected 100 real people from our files. Some are folks just like you. And they were kind enough to share their stories in hope of helping you overcome your osteoporosis too. So check them out!
Let's Summarize What You Just Learned
Regular calcium supplements are made from inedible rock. They only SLOW annual bone loss a little
A new plant source of calcium and minerals is better absorbed and more body-friendly
A critical bone building mineral called strontium supercharges AlgaeCal's performance
These 2 products have been clinically supported to INCREASE bone density, even in 80 year old study participants
Hundreds of customers have shared their success stories showing people from all walks of life and all ages increase bone strength
Step One
Take 2 easy-to-swallow
AlgaeCal veggie caps at
breakfast and dinner. And just
before bed take
2 Strontium caps.
Step Two
Let AlgaeCal and
Strontium go to work
Step Three
Get your next bone
density scan and see the
positive results
I Saved The Best News for Last…
Our Stronger Bones For 7 Years Guarantee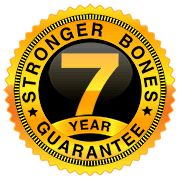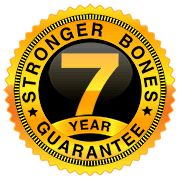 When you follow directions for use of AlgaeCal Plus and Strontium Boost - we guarantee you will see increased bone density in EVERY follow-up DEXA scan you have while using these 2 products - or we will refund every penny you paid for our products between your scans.
This guarantee extends to every scan you have for the next 7 years! Also, if you are dissatisfied at any time you can return my product for a full refund, no questions asked! Click Here For Details
Dean Neuls,
CEO and Co-Founder, AlgaeCal inc.


If there's one "catch", it's this …
We May Have Run Out of AlgaeCal
I am truly sorry. Ever since Dr. Oz aired his TV show saying he adores AlgaeCal, we can't keep up with demand. We sell out of our annual quota of Algas calcareas each year.
This valuable resource is sustainably harvested and governed by the ministry of environment. So only a certain tonnage is allowed each year.
That means when we're sold out for the year, we're out!
(It's also why AlgaeCal is NOT AVAILABLE IN STORES. We don't have enough algae to take it to retail.)
Are You Ready To Start Building New Bone Today?
Select Your Bone Builder Pack Below!
Questions?
Call our Bone Health
Consultants now!

Free Shipping
Your product is shipped within 24 hours of your order. Delivery is 3 to 5 business days to most American addresses.
You could go out and buy all these
bone-building ingredients separately…
Which Sounds Better to You?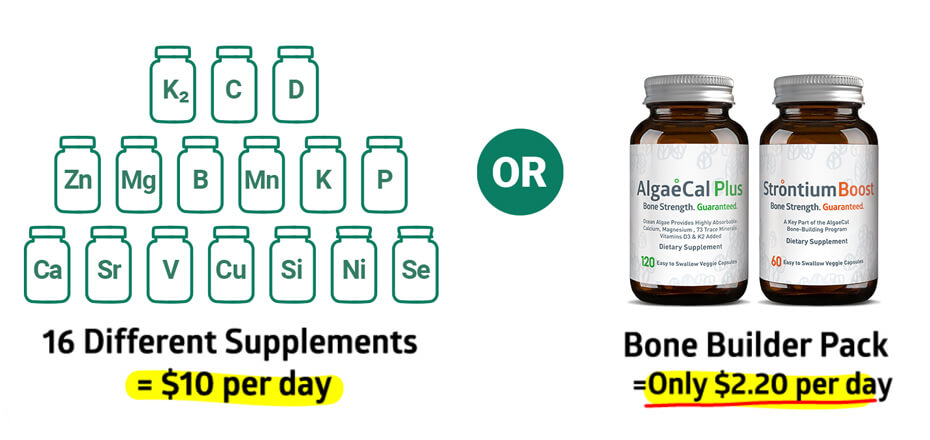 And you'd have all 16 essential nutrients you need. Now, you wouldn't get the precise doses of each that helped build new bone in the clinical studies you discovered above. You wouldn't get the superfood algae calcium. And you wouldn't get any guarantee these supplements might benefit your bone density.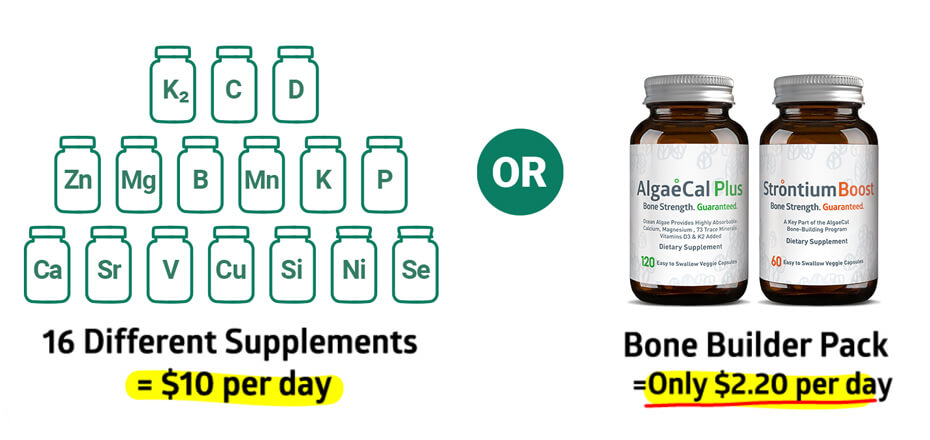 Of course, you'd also shell out over $300 for all that each month. That's $10 a day. But with a 6-month Bone Builder Pack of AlgaeCal Plus and Strontium Boost, you'd get everything mentioned above, and only pay $2.20 each day. Which sounds better to you?
5 More Reasons You'll Love AlgaeCal

1

Meaningful Amounts of Vitamin D3

AlgaeCal Plus contains 1600 IU per day of vitamin D3. Not synthetic D2 like some supplements. And not a trifling 400 IU like most. Vitamin D is needed for calcium absorption and studies show that at least 800 IU per day are necessary.8

2

Contains the Most Expensive Vitamin in the World!

Vitamin K2-7 costs $218,000 per lb. Talk about a Ferrari of an ingredient! No wonder few calcium supplements contain K2, and almost none offer it at a full 100 mcg per day as in AlgaeCal Plus. Vitamin K2 helps calcium to be directed into your bones rather that into soft tissues like arteries and kidneys.9

3

Feel the Difference Immediately

Unlike rock based calcium made from marble and limestone, AlgaeCal Plus will not cause constipation or bloating. Because it's a food, your body will digest it easily. Try AlgaeCal Plus and feel the difference immediately.

4

Easy to Swallow

AlgaeCal Plus and Strontium Boost comes in veggie capsules which are easy to swallow with water. And to make things even easier, you can easily open each capsule and add its contents to water or your favorite smoothie.

5

Highly Absorbable

AlgaeCal plant-digested calcium is so body-friendly that 97% of AlgaeCal's calcium goes into solution in 30 minutes using USP standard tests simulating stomach conditions proving it is very easily absorbed.